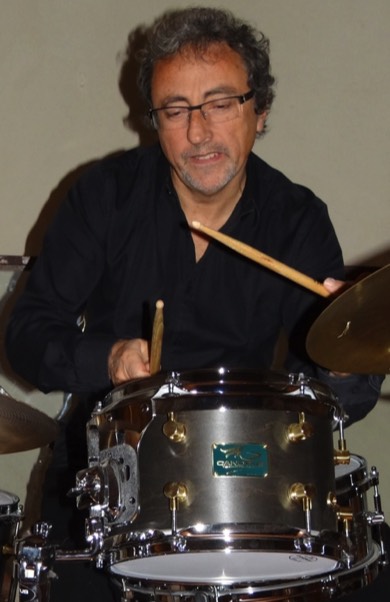 Born September 26, 1961, he studied at the Conservatory of Marseille between 1977 and 1980, in classical percussion class. Self-taught drummer, he cut his teeth in his father's jazz club in contact with the biggest as Kenny Clarke, Max Roach, Art Blakey, ... At the age of 15 he played regularly in clubs and is rapidly taken him along with many soloists: Eric Barret, George Arvanitas, Jean-Loup Lognon, Lou Bennet, Peter King, ... By 1980, he performed on national and international stages with renowned artists such as Didier Lockwood, Alain Jean-Marie Andre Villeger, Barney Willen, Christian Escoudé ... In the 90s he moved to Paris and is quickly becoming one of the major drummers of the French stage. He occurs on the biggest stages in France and abroad in bands such as:

- Johnny Griffin Quartet with Hervé Sellin and Ricardo Del Fra
- Michel Legrand Trio (with Marc-Michel Lebevillon bass)
- Olivier Hutman trio (with Thomas Bramerie - bass) and Ted Nash
- KAZ trio (Siegfried Kessler, Michel Zenino)
- Dick de Graaf European quartet (Eric Legnini - piano, Thomas Bramerie - bass)
- Belmondo Brothers quintet with whom he recorded "Belmondo Quintet" & "For all friends"
- Michele Hendrix quintet
- Emmanuel Bex Trio


He is the drummer in the orchestra led by Patrice Caratini for the resumption of the recording of "Anna Livia Plurabelle" from Andre Hodeir.

For over 20 years, he is actively involved in several musical projects: Olivier Temine quintet, Eric Le Lann acoustic quintet, Zénino Témime Arnaud Trio, "Take the Coltrane", Vincent Strazzieri/Sylvain Romano/Jean-Pierre Arnaud Trio, Virginie Teychené quintet.

Also played with: Tom Harrell, George Coleman, Dizzy Gillespie, Lee Konitz, Barney Kessel, Lavelle quartet, Mal Weldrom, Horace Parlan, Dee-Dee Brigdwater, NHOP, Freeman Chico, Joe Newman, Grey Sony, Glenn Ferris, John Hendrix, Art Framer , Lalo Schifrin, Deborah Brown, Less McCann, Kirck Lightsey, Tal Farlow, Antonio Farao, Frank Wes, Archie Shep ...
Né le 26 septembre 1961, il suit des études au conservatoire de Marseille entre 1977 et 1980, en classe de percussion classique.
Batteur autodidacte, il fait ses classes dans le club de jazz de son père au contact des plus grands comme Kenny CLARKE, Max Roach, Art Blakey, …

Il s'impose très jeune comme un des batteurs de jazz les plus en vue sur Marseille et sa région. A l'âge de 15 ans il joue régulièrement en club et il est rapidement amené à se produire aux côtés de nombreux solistes : Eric Barret , Georges Arvanitas, Jean-Loup Lognon, Lou Bennet, Peter King, …

Dès 1980, il se produit sur des scènes nationales et internationales, avec des artistes de renoms tels que : Didier Lockwood, Alain Jean-Marie, André Villeger, Barney Willen, Christian Escoudé …

Dans les années 90 il s'installe à Paris et s'impose rapidement comme un des batteurs majeurs de la scène française. Il se produit sur les plus grandes scènes en France et à l'étranger au sein de formations telles que :

⁃ Johnny Griffin quartet avec Hervé Sellin et Ricardo Del Fra
⁃ Michel legrand trio (avec Marc-Michel Lebevillon contrebasse)
⁃ Olivier Hutman trio (avec Thomas Bramerie) et Ted Nash
- KAZ trio (Siegfried Kessler, Michel Zenino)
⁃ Dick de Graaf European quartet ( Eric Legnini piano, Thomas Bramerie contrebasse)
⁃ Quintet des frères Belmondo avec qui il enregistre « Belmondo Quintet » & « For all friends »
⁃ Michèle Hendrix quintet
- Emmanuel Bex Trio


Il est le batteur de l'orchestre dirigé par Patrice Caratini pour la reprise de l'enregistrement de « Anna Livia Plurabelle » d'André Hodeir.

Depuis plus de 20 ans, il participe activement à plusieurs projets musicaux : Olivier Temine quintet, Eric Le Lann acoustique quintet, Zénino Témime Arnaud Trio, « Take the Coltrane » , Vincent Strazzieri/Sylvain Romano/Jean-Pierre Arnaud Trio, Virginie Teychené quintet.

A également joué avec : Tom Harrell, Georges Coleman, Dizzy Gillespie, Lee Konitz, Barney Kessel, Lavelle quartet, Mal Weldrom, Horace Parlan, Dee-Dee Brigdwater, N.H.O.P, Chico Freeman, Joe Newman, Sony Grey, Glenn Ferris, John Hendrix, Art Framer, Lalo Schifrin, Deborah Brown, Less McCann, Kirck Lightsey, Tal Farlow, Antonio Farao, Franck Wes, Archie Shep, …